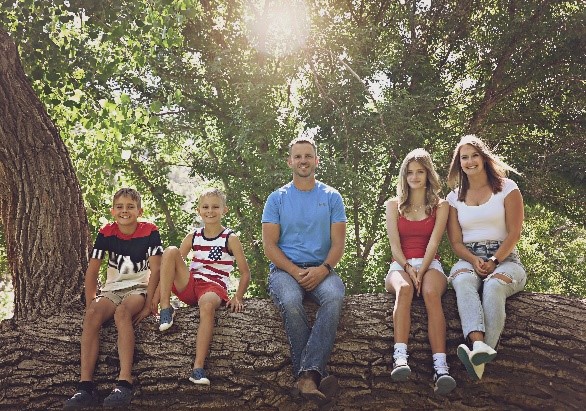 Meet Kimberly Spitzer, our dedicated board secretary who's fast approaching her two-year anniversary with FCCAC! Not only does she bring incredible skills to her role, but she's also driven by a deep-rooted passion for our cause. From fundraising to PR and board recruitment, Kimberly's involvement spans across multiple committees, making her an invaluable asset to our team.
Professional and Personal Background
Kimberly Spitzer wears many hats, both professionally and in the community. As a Real Estate Broker in Cortez, she understands the pulse of the local market. Her community involvement extends to serving as secretary for a youth wrestling program and participating in her children's school PTO. She's also been a driving force in raising awareness for suicide prevention through the Out of the Darkness walk. With a background in holistic wellness as a certified yoga instructor and childbirth doula, Kimberly brings a multi-faceted skill set to our board.
Why She Chose to Serve
Kimberly joined the board out of a deep-rooted belief in our mission to support and protect children. Her motivation was further galvanized by experiences her family had with a child protection system outside of our local community. Upon moving to Cortez and learning about FCCAC, she found an organization that resonated with her heart's mission. She feels honored to contribute to the positive impact we make in the lives of children and the community at large.
Interests and Hobbies
While Kimberly's days are filled to the brim with activities for her three energetic kids, she wouldn't have it any other way. Watching them excel in their own interests is her ultimate recharge button. As a family, they seize the chance to explore the natural beauty of their home state through camping trips that serve as quality bonding time. And when she does manage to steal a few quiet moments for herself, you'll find Kimberly lost in a good book or unwinding to her favorite tunes.
Vision for FCCAC
Kimberly's vision for FCCAC is one of growth and deepened community connection. She's an advocate for increasing awareness about the life-changing services we offer, knowing that community support is key. In her eyes, greater financial backing could open doors for expanding our range of services, ensuring that we can continue to make a meaningful impact without the looming fear of closure.
Current Projects
As for projects she's buzzing about, our annual GALA tops the list. It's our biggest fundraising event, and Kimberly is thrilled to lend her organizational skills to make it an unforgettable evening. For her, the night represents the epitome of community coming together to support a vital cause, making each moment spent planning it incredibly worthwhile.
Kimberly has generously allowed us to feature her in this spotlight, which we're thrilled to share across our social media channels and website. If you have any questions or would like to connect with Kimberly, please reach out to us. Don't forget to share this blog post to showcase the amazing individuals who make FCCAC the strong community it is. Keep an eye out for future spotlights on our incredible board members!