Our Mission
The mission of Four Corners Child Advocacy Center is to strengthen our community's response to child abuse and neglect through prevention, intervention, education and advocacy.
Services Offered Through COVID-19 Pandemic
The staff of the Four Corners Child Advocacy Center is back in the office. Services are offered both in person and virtually based on client needs. We have made some changes to our in office processes. Please be aware:
Masks will be required. If you do not have a mask, one will be provided to you to keep.
Physical distancing will be used when possible.
To keep our numbers down in the office, one caregiver per child. This caregiver will also be required to wear a mask (one can be provided).
Hands will be sanitized upon entry.
You will be given a health screening upon entering the Advocacy Center which includes:

Temperature check
Health questions: Do you have…dry cough, shortness of breath, sore throat, loss of taste or smell, nasal congestion (not associated with known allergies), known allergies?
Association questions: Have you…been around anyone who has tested positive for COVID-19, been around anyone who has COVID-19 test results pending?

Staff will be wearing masks (with face shields when together longer) and maintaining physical distancing when able.
At Four Corners Child Advocacy Center we recognize that the local, national, and global threat as a result of COVID-19 has all our lives in a constant state of change, for many, increasing fear. Our community has a dedicated team that are committed to protecting our children, families and community. Unfortunately, no matter what the circumstances, child abuse persists. Trauma does not take a break. Our community needs us now, more than ever.

For up to date information about the Advocacy Center, please follow our Facebook Page.
Who We Are
Four Corners Child Advocacy Center provides a safe, child-friendly environment that eases the emotional trauma experienced by children during the investigation and prosecution of child abuse cases.
We've been serving child victims of abuse and their non-offending family members since 1992.
Our Vision
A community where children are safe, families are strong, and our child victims become children again.
Our Goals
Minimize trauma suffered by the child due to multiple contacts with different
community professionals
Provide families with referrals for needed services
Maintain open communication and case coordination among the agencies involved in child protection efforts
Develop and promote prevention education programs for parents and care givers
Make available specialized training to enhance professional skills to effectively
respond to child sexual and severe physical abuse
Educate mandated reporters of their legal responsibilities under Colorado law
Provide an educational component to enhance community awareness and
understanding of child sexual and physical abuse.
2020 Annual Report
Click the image below to view our current annual report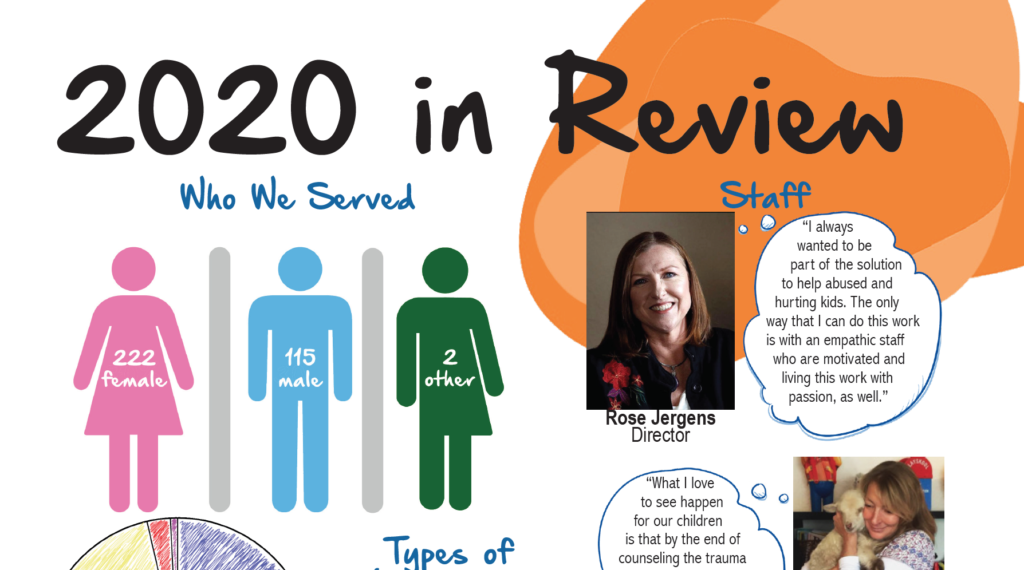 Join Our E-Newsletter List