HANDS AREN'T FOR HURTING….
THEY ARE FOR QUILTING.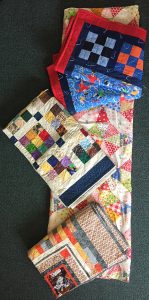 Join quilters, crocheters, seamstresses, and knitters from across the United States in bringing comfort to children in the Four Corners area suffering from abuse.
Who We Are:
For those who don't know us, the Four Corners Child Advocacy Center is an accredited charitable organization that operates a facility often referred to as The Nest in Cortez, Colorado. We provide personal advocacy, emotional support, safety planning, and criminal justice assistance for abused children who are referred or brought to us.
What We Need:
In 2021 380+ children received services at the Advocacy Center. We make every effort to make the visit with us as comfortable as possible. One of those things is to allow the child to choose a quilt from our closet. Not only does the quilt provide something comforting to snuggle with, but it may also be the only personal possession the child has.
Why We Need Your Help:
We need quilters both to allow this tradition to continue and to help us make our match. What does that mean? We can use your kindness to comfort a child as well as to ensure one of our grantees will support our program. How does it work? Your hours spent quilting for the kids is an in-kind financial match toward our personnel expenses at the Center.
Do you already have a quilt at home you would like to donate or do you have a great idea for a quilt for a boy or girl aged 0-18? We would love to share your talent and passion with a child in our area. Please download our fillable PDF to mail with your quilt. Send your quilt (or drop off your quilt) at 118 N. Chestnut, Cortez, CO 81321.
Join our Facebook Group to stay up to date on information regarding the Quilts for Kids Initiative.